State of Concept, in the framework of the interdisciplinary research project Τhe Bureau of Care , aiming to research the ethics and politics of care, and continuing our collaboration with various people from Greece and abroad in the framework of Care-full Growing, invites you to the workshop With the Care of nature with Eleni Christoforatou curated by Christina Kotsilelou to discuss herbal preparations for our personal care and that of our family. As part of the workshop we will all prepare salves with calendula.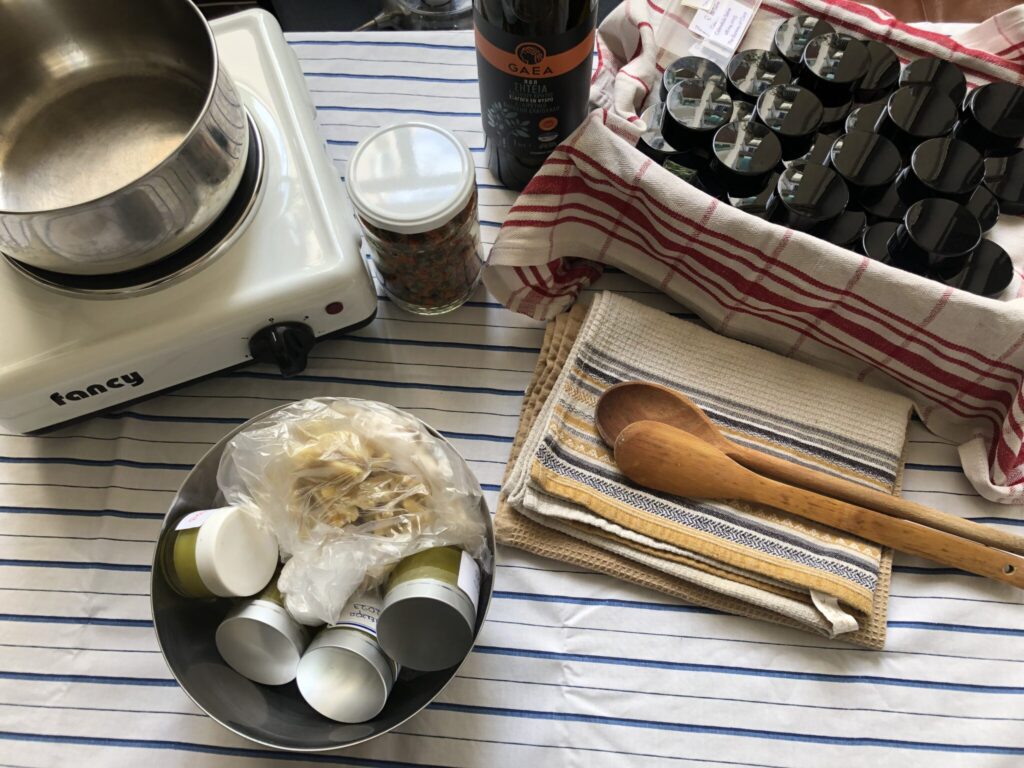 These last decades neoliberalism has capitalized on the individualist notion of care, widely promoted as "self-care," through an industry with billions in revenues. By "leaning-in" and taking care of oneself, contemporary subjectivities of the so-called "developed" world are tasked with the care of their overworked bodies, but are less and less interested in the wellbeing of bodies that are outside of the immediate realm of their family, class, working environment, neighborhood, city, country.
Care—and its ethics and politics—has been a subject matter the art world is concerned with. The global pandemic has made it all the more urgent. But is it a real concern that will lead to change in the ways we operate in our institutions and working relationships? How can care – if studied care-fully – provide transformative responses to the various problems that art institutions have been facing? Why are contemporary art institutions keen to talk about care, when they have been so care-less themselves? How can an art institution embody and practice the knowledge and the politics of care in a meaningful way?
Τhe Bureau of Care brings together artists, activists, writers and social workers to write and visualise the foundations of a European post-pandemic politics of care, where they propose the ideas and forms that make a new politics of care conceivable and practicable.
Eleni Christofoartou is a herbalist living for more than 20 years on the island of Corfu in Greece. The beauty of the island's nature shaped her path and created a life close to the plant communities of the area. For more than ten years, she gives classes on herbal medicine, she leads herbal walks, harvests plants and makes salves, syrups, tinctures and all kinds of herbal preparations with natural ingredients.
She studied with many well-known American herbalists and she graduated from Chestnut School of Herbal Medicine after completing the "Herbal Medicine Making" and "Herbal Immersion Course". She continued her studies in David Winston Center for Herbal Studies where she got her certificate from the 2 year Clinical Herbalist Training Program and the one year Grad Program.
She has been the creator and co-coordinator of the Herbalist without Borders Chapter in Corfu which has offered plenty of free workshops and other events in order to educate people on how to incorporate plants in their daily routine for better health and quality of life. The Corfu Chapter has implemented a successful refugee herbal training program working with women living in the mainland refugee camps.
She has dedicated a significant part of her work to the effort to keep alive the traditional herbal medicine in Corfu. You can find her research work in the site "Herb and People on the island of Corfu: An Ongoing Relationship": www.corfuherbs.com/en/home .
She collaborates with the Mushroom Club of Corfu, the Educational Cultural Association of Sinies and the Public Central Historical Library of Corfu to create a unique collection of books on mushrooms and plants under the name "The Nature's Library" accessible to all residents and visitors of the island.
Christina Kotsilelou (christinakotsilelou.com) graduated in 2000 from BA Product Design in Central Saint Martin's College of Art and Design in London and has continued her studies there with an MA in Design Studies.
Upon her return to Greece in 2006 she formed together with her partner Thanos Karampatsos, 'Greece is for Lovers', a product design studio specialising in exploring cultural identity and designing kind of absurd objects inspired by their heritage. Together they have taken part in various international design fairs and exhibitions and continue their practice from their studio in Athens.
In 2015 and in a turn of events, following a passion for cooking Christina attended a raw vegan culinary academy in California (Matthew Kenney Culinary Academy). Continuing in the field she also attended a more advanced course in Barcelona (Plantlab) in 2017. Since then, along with product design, she has been working in various ways with food. Never employed full time in the restaurant business, she prefers to work by project and have a more thoughtful approach to cooking. Creating menus for vegetarian and vegan restaurants as well as doing pop up events in various spaces, orchestrating sensory gastronomic experiences that engage the participants have been some of the areas explored.
A continuing thread in her involvement with food and nutrition has been the respect and concern for the ingredients, the environment and the human body. After all, eating is always a political act and she strongly believes that one should be mindful of where one's food comes from. Questions about food production and distribution, sustainability and environmental ethics are always critical.
Christina has travelled in various countries for cooking and exploring food practices and traditions. She has been a resident chef at "The Breeder" gallery restaurant, at the "Bios" cultural organisation's restaurant with two creative pop up concepts while two years ago she was the chef in residence at "Onassis Air", the artistic and research residency of the Onassis Foundation. She recently had the chance to attend the MAD Academy environment and sustainability program in Copenhagen, a school from the people behind Noma restaurant.
Her current interests evolve around holistic healing practices, folk medicine traditions and local herb knowledge as a natural way of healing and caring for our body and the environment.